Play Spider, Spider One Suit, Spider Two Suits, and more!
Spider Wizard is an exciting solitaire game based on the classic game Spider, a challenging 2 deck game that requires skill and a little bit of luck.
If you have played the Spider game that comes with Windows, then you know how fun and challenging Spider can be. But wouldn't it be nice to have a little more?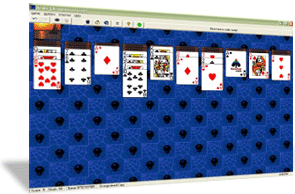 Spider Wizard contains not only Spider, but 15 other similar games. Variations include Spider One Suit and Spider Two Suits, which have card moving rules that make the game easier to win.
In addition, it contains the classic Spider variants Miss Milligan, Scorpion, and Spiderette, as well as popular games such as Rouge et Noir and Simple Simon.

Download the 30 day trial version.
Version 2.1 - September 4, 2012
3.8 Megabytes
For Windows XP/Vista/7/8
100% Clean
Our downloads contain only our games and no other software. No files other than those required to run our games are installed.
Subscribe to our Newsletter
Sign up for the free Goodsol email newsletter. Enter your email address below, and then click the Subscribe button. Your email address will be kept confidential, and it will only be used to send you our free newsletter.